There comes a point in almost every girl's life where she questions, "Where the heck is all this hair coming from??" And as a brown girl, the hair problem only darkens (haha…ha). Additionally, I have a skin condition known as Keratosis Pilaris (or chicken skin) a common, harmless (but annoying) skin condition. It basically feels like having permanent goosebumps so your skin always feels rough. Eventually, I got tired of my legs and skin feeling like the bottom of a crunch bar.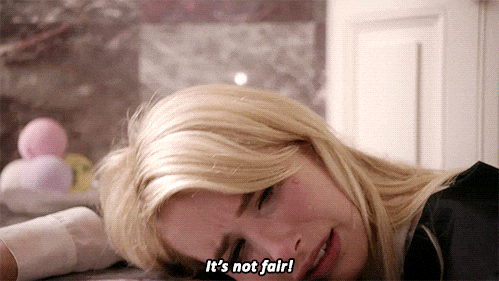 I just really wanted clear smooth skin! If anyone is interested, I can do another article on methods I've used specifically for handling keratosis pilaris, but one of the suggestions was hair removal. So, I wanted to share my experiences in different strategies I've used to remove hair and how these methods impacted my skin condition.
Disclaimer: these pros and cons are based on my own experiences, I am not trying to persuade you into choosing a specific type. Everyone has their own preferences, so it is likely that after you read this article you may pick a method based on what is important to you (e.g., cost, time, convenience, tools, pain tolerance, long-term results, etc.)
First of all, no matter what type of removal you use, my one main suggestion is to EXFOLIATE every time you shower!!! It will help reduce ingrown hairs and make your skin smoother, thus making it easier to remove hair, regardless of which method you choose. Here are some of my favorite exfoliating body washes:
[The last two smell absolutely fan-freakin-tastic omg]
Anyways, hair are some methods of hair removal I have used in the past (yes, I'm hilarious):
SHAVING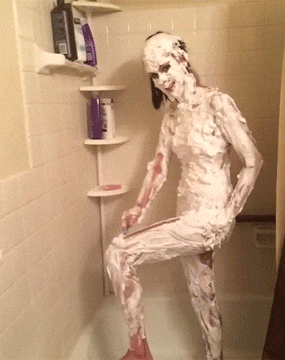 This is one of the most common methods of removing hair. Typically, you need a shaving cream or conditioner and a razor. Also, this is usually done in the shower so that your pores open up and allow for a cleaner shave. Always make sure you have a sharp/fresh razor and exfoliate for best results. With shaving, you are simply cutting your hairs that appear outside of your skin. I start in areas with the roughest hair because the blade is the sharpest in the beginning, like down there. Then, I work my way to the least rough hair. My arm hairs are blonde and thin, so I shave them last. I only use a razor once when shaving my entire body and then throw it out because the blades dull.
Pros:
Quick Fix: If you need to remove hair immediately, this is probably the fastest way to remove hair in your home on your own

Cost effective: uses the cheapest tools
Cons:
Ingrown hairs: shaving makes you way more prone to ingrown hairs and at a higher rate than any other hair removal method

High maintenance: shaving is a temporary fix and will typically only last you for a day or so on most parts of your body before the little buds of hair start peeking out again

Grows back thicker, darker hair at a faster rate

Made my keratosis pilaris worse (because of razor bumps and ingrown hairs)
Overall: It's good for short term fixes, but bad for the long-term because in the end (it doesn't even matter…), you may end up spending a lot of money on shaving supplies and spending a lot of time if you shave consistently. Also, if your goal is to reduce hair growth, this is the worst way to do it because your hair will grow back darker, thicker, and faster!!! This also had a bad reaction on my skin because it would just end up being bumpier after shaving than before shaving. So, in general, I stopped shaving a long time ago (over 5-6 years ago) but started again only when I decided to do laser hair removal — more details on that later in this post!
If you do decide to shave, here are some of my favorite products that have worked for me:
The Dollar Shave club, which has a great deal (starting with razors for $1 a month!) They also have a really great shave butter which can be used in place of shaving cream; I highly recommend you check it out:

http://shaved.by/gIWiB
CREAMS
These depilatory creams have chemicals that dissolve the hair shaft. Always be sure to read the instructions because leaving it on too long can burn your skin — and you shouldn't use hair removal cream made for your bikini area on your face…duh. Also, if you have a history of allergic reactions, you should first test a little bit of the cream on a small area on your arm to make sure you don't have a bad reaction to it.
Pros:
Quick Fix: If you need to remove hair immediately, this is probably also one of the fastest ways to remove hair in your home on your own

Cheap: you can buy bottles of the cream in bulk

Doesn't really make you prone to ingrown hairs
Cons:
The smell: Honestly, it became unbearable for me. Sometimes my bathroom would start smelling like it even after using my favorite body washes. I couldn't stand it.

High maintenance: this is a temporary fix and will typically only last a few days or so on most parts of your body before the little buds of hair start peeking out again

Needs to be done in the shower
I've only used the creams a few times on my legs; I've mostly used it on my under arms and nether regions so I can't speak to its effects on keratosis pilaris. I would recommend this for those parts of your body you don't want to shave but want the hair gone. Shaving down there, for example, can be difficult because it's easy to miss some hairs. This would be a good alternative. Here are some products I've used:
THREADING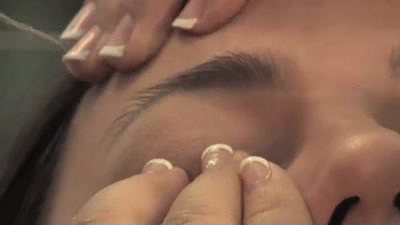 Soooo, I only use threading for my eyebrows. I can't speak to it for other parts of your body but I imagine it would take a VERY long time to do that and you wouldn't be able to do it completely on your own. My routine is to get them done from somewhere once every month or two, and then I use tweezers to constantly pluck them whenever I need to do my makeup. It has just become part of my routine and I love being able to do it. It takes time to learn but now it has become super easy. If people are interested, I can show you how I pluck my brows to keep them on fleek (see I can be hip…ok I hate myself bye). Unfortunately, the tweezers I bought are no longer in stock 😔 I bought them 2 years ago in an Occhio beauty set. They were stainless steel with a slanted tip and have a floral design on them.
Luckily, I found some good cheap alternatives!
WAXING
I have a long history with waxing. After trying shaving, my research on keratosis pilaris led me to try waxing because it would pull the hairs out of the follicles and then reduce the follicle size, therefore reducing the size of my bumps. Growing up, I have tried several different types of waxes, waxed myself at home, made my own wax, and went to get waxed professionally. I have waxed all over except on my face because I just use threading/plucking for my brows and a face trimmer for the stache. I waxed for a good 8 years (woah.. that's a third of my life…)
I don't wear things that show my legs so waxing was a good option for me because you need to let the hair grow a certain length before you do it. Also, because no one is looking at my legs, I liked not having to shave or use creams daily to remove hair and just go once a month to get it all done; or spend an afternoon doing it myself.
Pros:
Flexibility of doing it on your own or getting it done by someone professionally

Longer periods of time without hair

Hair grows back thinner and lighter

Less ingrown hairs

Worked well for my keratosis pilaris! But only a temporary fix
Cons:
Painful

Need to let hair grow to at least 1 cm / quarter of an inch before you get waxed again

Can be messy and time consuming if you do it on your own

Can be expensive if you get someone else to do it
Most people are worried about the pain associated with waxing. My biggest suggestion to you is to use sugar wax (you can make this at home) or go to a place that does sugar waxing. Sugar wax is made with water, sugar, and lemon juice. You can make it at home by looking up youtube videos or recipes online (super easy). The reason this wax is better than most salon waxes or regular wax is because it doesn't stick to your skin, it only sticks to your hair. So obviously, it's still going to hurt pulling the hairs out, BUT you aren't also pulled at your skin. Regular wax sticks to your skin and can hurt like a betch. It is also extremely difficult to remove from skin or clothes. Sugar wax, however, just washes off with water, making clean up super easy. If you want to know more about the process of waxing or want a tutorial, let me know, maybe I can make a video or another post about it because I just have so much to say…
If you don't want to make your own sugar wax, another really good option that is less painful than regular wax is hard wax. Here are some different products you can try:
EPILATING
"What's that?" Many people haven't heard of this method. Epilating requires an electric handheld machine (about the size of an electric razor that men often use). However, instead of razor blades, there are several tiny tweezers in the machine that strategically pull out your hairs one by one as you run the machine down your skin. It does it very quickly, which can be good or bad depending on your pain tolerance.
Pros:
Longer periods of time without hair

Hair grows back thinner and lighter

Requires just a one-time purchase of an epilating tool that may only need a change of batteries or charging

Less ingrown hairs

Helped a bit with keratosis pilaris — but only if I was consistent
Cons:
Can be expensive to buy an epilator, but usually one time cost

Can be PAINFUL because it's plucking each of your hairs out one by one – depends on your pain tolerance! Its tweezing your hairs out

It's easier to miss a spot

Need to be consistent (every few days)
Overall: I did epilating for a long period of time and got used to the pain. Think about when you pluck your eyebrows or even get them threaded; that is about the level of pain you will experience but on your legs, arms, or wherever you use this machine. I think the most painful parts are your armpits and down there. When I epilated, I sought out other ways to remove hair in those more sensitive areas because it was too painful for me (e.g., waxing / hair removal creams). Epilating was great for me because it made my hair grow back thinner and lighter; however it wouldn't last as long as I liked.
I started out with a cheap epilator from CVS [Remington EP7010 Women's Total Coverage, Epilation, Tweezing Hair Removal System] and used to just sit on my bedroom floor on a towel and epilate while I watched a TV show and showered after. Then, I graduated to a more expensive epilator that also allowed me to trim down there where I couldn't epilate [Braun Silk-épil 7 7-561 – Wet & Dry Cordless Electric Hair Removal Epilator, Ladies' Electric Shaver, and Bikini Trimmer for Women]. I really liked the one I bought because it was waterproof and I could use it in the shower which made clean up a lot easier and allowed my pores to open up in the warm water. It also came with a little electric shaver and bikini trimmer, which was super useful. I felt like this was a great investment.
I liked epilating better than waxing in some ways because if I was consistent with epilating every few days, my legs and arms stayed smooth and the hair grew back thinner. However, it would be extremely difficult to epilate if I didn't do it for long periods of time; this is because hair grows in cycles. I would just wax if I had too much hair and then epilate to maintain it.
LASER HAIR REMOVAL
Omg. Experiencing laser hair removal has been life changing for me. I am actually in the process of working on another separate post just to talk about my entire experience but I will just give a brief overview here.
Pros:
Hair grows back less and less with each appointment

Some hair has just completely stopped growing

I don't have any ingrown hairs

My keratosis pilaris is almost completely gone, no more crunch bar skin 😀

Skin is smoother and I don't have ugly hair follicle dots on my legs
Cons:
Yes, it's expensive. Yes, it's painful. But to me, the benefits made it worth it. Also, after like 8 years of waxing, I have a little higher tolerance for pain than most people. So getting laser done on my arms and legs wasn't bad. However, it does really hurt down there and on my armpits…but I just remind myself that the pain is temporary and the results are long lasting.
The other set back to laser hair removal is cost. Typically, to do laser hair removal on ONE body area (for example, JUST armpits), it can cost anyway from $100-$500 PER TREATMENT! And if you need 6-8 treatments for the removal to become more permanent… that can really add up. People end up investing thousands and thousand of dollars. I researched so much and some places near me in Dearborn were charging $750 per treatment for the entire body!!! That would mean you would end up spending a total of $5,000 – $6,000 to get laser hair removal for your whole body; and that's on the cheaper end!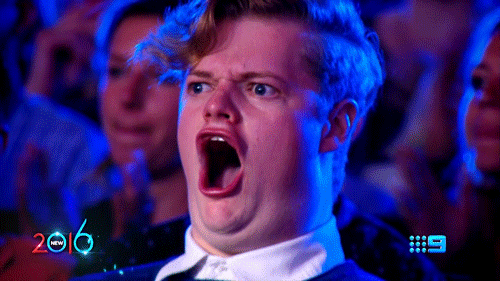 Luckily, I was referred to a place in Sterling Heights. It's called The Beauty Clinic and for the ENTIRE BODY it charges ONLY $150 per treatment!!! I was like what.. the… heck.
In fact, I talked to Lina (she does the procedure) and she said that she is willing to give an additional discount to anyone who wants it done!! So, if you are interested, set up a consultation at The Beauty Clinic in Sterling Heights. Call 586-553-9951 to schedule an appointment. When you are there, let Lina know that Zuni referred you and you'd like the $20 discount, so you're only paying $130 per treatment for your entire body, yee boi.
If you are still skeptical or want more information, I'll be posting about my laser hair removal experience in more detail soon!
I'd like to know if this was helpful or if there is anything you'd like more information about; so please don't hesitate to comment or shoot me a message! Thanks ♥