As someone working on the topic of child welfare, it feels important to share some info re: Trump's executive order & family separation more generally, so here's 10 things I want to say plus a message on how to take action:
1. ~2300 children (though the ACLU estimates its more like 4000) are already separated from their families. This order offers NO plan to reunite them.
2. ICE has claimed to have reunited 500 of these families. For this, they have provided no proof.
3. Some of these children are as young as 9 months old, meaning many of them can't even communicate who they are, where they're from, or what their parents' names are. Many only speak Spanish. Importantly, some only speak indigenous languages, for which the supply of translators in the US is extremely limited (if it exists at all!).
4. Especially at such a young age, even brief separation can affect developing brain chemistry & inflict *irreparable* damage (e.g., higher risk of mental illness, diabetes, cognitive development difficulties, etc. etc. etc.). Some of these children have been separated from their families for 30 days with no promise of reunification, leaving lifelong damage.
5. Living conditions are terrible (ex: children are in cages!!). Notably, the US has not had orphanages in decades, in part because it's REALLY hard to get them right, especially for this younger group of vulnerable children. Thus, the US gov't has no framework for how to house & care for large groups of children. No trauma-informed care is being provided.
6. For the record, this is VERY much a race and class issue. Family separation and other means of controlling family structure/reproduction of has been a key component of America's oppression of people of color since its inception (see: https://www.amazon.com/Killing-Black-Body-Repr…/…/0679758690 for more about the past AND present policing the bodies/reproduction/parenting of women of color). Yes, this is America. No, this would not have happened to white children. Especially wealthy ones.
7. These children have been moved across the country, mainly to hotspots such as NEW YORK and MICHIGAN (side note: HI to my many friends that live in both of these places!!! Call your representatives!!!).
8. The gov't is notoriously bad at data management, so in many of these cases there is no official record of these children, who their family members are, where they've gone, etc. This makes reunification, placement with kin, AND legal representation extremely difficult.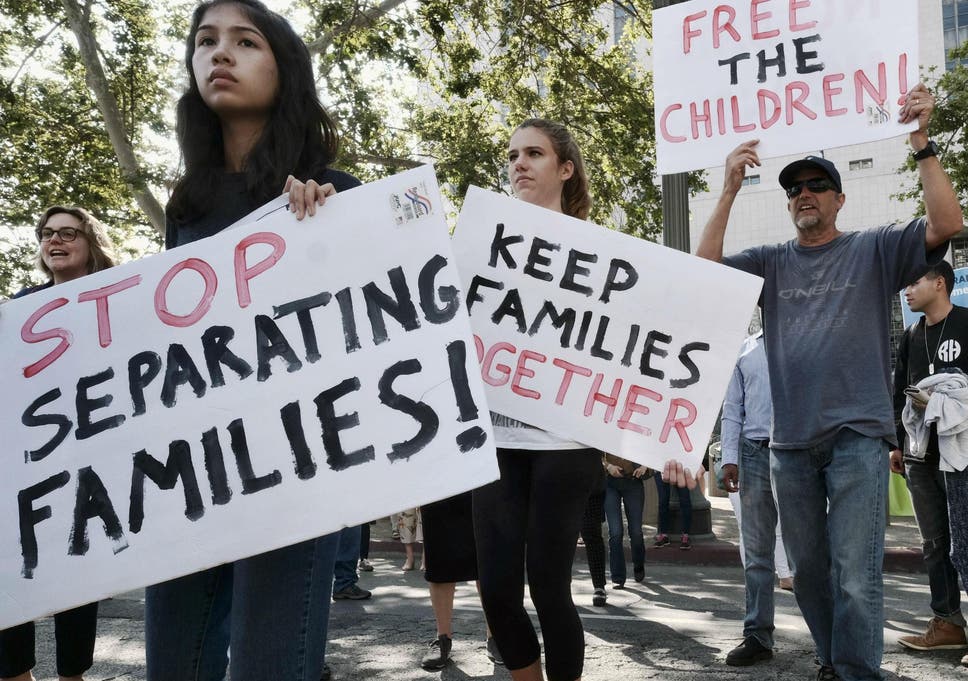 9. Speaking of legal representation, atty's and advocates (esp. where I am in NYC) are finding it nearly impossible to get to these kids because HHS put a GAG ORDER on the foster care agencies. Also, this EO is (to use super official legal jargon) shady. Phrases like "to the extent permitted by law and subject to the availability of appropriations" leave a lot of wiggle room to continue family separation, and I have no doubt that ICE will abuse this.
10. SEEKING ASYLUM IS LEGAL. Also, the United States is not the magical fairytale dreamland people try to make it out to be, especially for PoC. People crossing the border are often coming to the US not because it is the "ultimate goal," or "Greatest Country on Earth ™" but b/c they have no other choice. They are leaving behind their family, their community, and their culture, which is traumatizing *in itself*.
Trump has a pattern of distracting the masses, and in this current political climate (AKA the darkest timeline) it's difficult to avoid becoming overwhelmed and exhausted. So! My concern is this: what if there is a major event next week (e.g., an indictment in the Russia investigation! A tweet about nuclear warfare with NK or trade war with China! Or perhaps just another Melania faux pas!) & this EO gives people permission to move on and forget about this blatant human rights violation?
So don't get distracted. Continue to put the pressure on: call your representatives (again, hi Michigan and NY friends!), ask them questions about the influx of children – how many are there? Where are they? Do they know? Let them know it's their responsibility to keep track of these things and you will hold them accountable. Donate (some ideas: https://texascivilrightsproject.org/ http://www.childrensrights.org/https://www.aclu.org/), talk to your family and friends, protest (Saturday, June 30th nationwide!! link below). Also, as this issue falls at the intersection of race, gender, and class, ask yourself how you're contributing to and/or benefit from an oppressive structure in the US & what you can do to actively fight against that. This is not an exhaustive list by ANY means so I welcome more suggestions & good places to donate!
Lastly, in response to statements I see outright denying the humanity of these children AND their parents (e.g., Taffy Lorax "we owe illegal immigrants nothing" or general claims family separation is a good way to deter): every human being deserves respect and dignity. I say that without reservation. That's all. – Erin Fowler
Protest: https://www.facebook.com/events/401815953659712